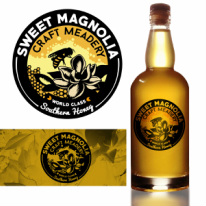 The Sweet Magnolia Craft Meadery
Southern Honey -- World Class
---
As a homebrewer off-and-on since 1996 and producing my first mead, honey wine, in 1998 I have become consumed with the idea of creating world class products using local ingredients from around the region. Since that time a passion for craft beverages, a growing interest for local products, and hours of work have spurred on the development of world class libations. So much so that they have moved on to win top awards in Georgia, Florida, Tennessee, Kentucky, Texas, North Carolina, South Carolina, Colorado, and Ohio -- including several national awards and recognition. Nestled in the piedmont of North Georgia,
The Sweet Magnolia Craft Meadery
is in its final planning stages of shoring up investors and seeking a location.
Initial offerings of mead include:
Buck Wild (~abv 12.7): Utilizing North Georgia wildflower honey and an extra touch of Buckwheat, this off-dry award winner capitalizes on a unique Scottish yeast strain not found in most American meads. It recently was voted best in its category at a recent competition.
Tupelo (abv 12.5%): Using one of the more sought after honey varieties in the world (Van Morrison even wrote a popular song "Tupelo Honey") this particular semi-sweet traditional mead is my first award winner and recently earned the hard-won "World Class" designation at the 2015 Mazer's Cup as well as, with a later batch, the 2016 Domra's Mead Cup.
Dark Pearls (abv 15.7%): First Place Mead at Kentucky's Bluegrass Cup 2014, Best of Show at the 2015 US Open, runner-up Best of Show (but 1st place in catagory) at Meadlinium 2015, and runner-up at the 2016 Peach State Brew Off. Fermented with local late-season honey, locally juiced blueberries, and aged with locally blackberries (skins intact)! It has been a perennial top scorer (recently earning "World Class" accolades at the 2015 First Cup Competition in Jacksonville, Florida and the 2016 Domra's Mead Cup) and award winner that arguably rivals many premium red wines in terms of complexity and richness.
San Ybel (abv 12.5%): Another mead to earn the rare "World Class" designation. This particular mead was inspired by the many breathtaking sunsets experienced on the west coast of Florida. Using orange blossom honey, whole Madagascar Bourbon Vanilla Beans provide a warm backdrop for the citrus flavors imparted from freshly zested Florida oranges and citrus.
Georgia Snowday
(abv 12%): Developed during a "Snowmagedon" storm that struck and crippled Atlanta for several days, a variation of this dessert mead has went on to earn awards at two different nationally renowned mead-only competitions (Meadllennium and The Texas Meadfest). This sweet mead adds licorice and vanilla to the deep sweetness of locally produced honey.
Other award-winning offerings include: Heat Islands (Orange Blossom Honey), Blackbeard's Bees (vanilla bean aged in used oak rum barrel), Sweet Sierra Cyser (using locally pressed apple cider with cinnamon), and Captiva Caps (an award winning pepper mead).
Please visit us on Twitter and Facebook for more updates or contact us at derek@sweetmagmeads.com